During the design phase of our sign process, we often ask our clients for vector images when it comes to their branding files. It's important when we are creating drawings that we have this type of image as it improves the accuracy of our designs and allows us to manipulate our client's art into sign form without risking the integrity of the brand. Vector art is scalable, which is necessary when making signs of all sizes. Vector art allows us to scale up without a loss in quality. This format is also required for some production processes.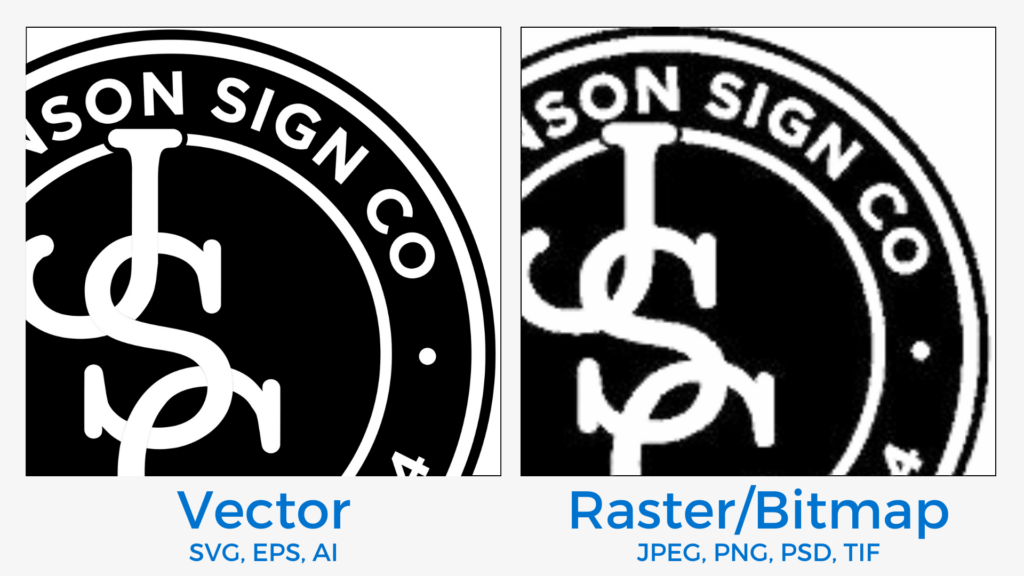 Vector Image vs. Raster/Bitmap Image
Technically speaking vector graphics are formed from a combination of individual objects consisting of points, lines, curves, and shapes that are based on mathematical formulas. Common file types of a vector image include .SVG, .EPS and .AI files. This is very different from raster/bitmap graphics as these types of images are compiled using tiny pixels. File types of raster/bitmap images include but are not limited to .JPEG, .PNG, PSD. and .TIF. Raster/bitmap images often are NOT scalable without a loss in quality.
Why do we need it?
The biggest benefit of having a vector graphic over a raster/bitmap graphic is that since the graphic is made up of individual objects, the image size of the graphic does not affect the quality, like it does with a raster/bitmap graphic. When looking at vector and raster/bitmap graphics with the naked eye, there doesn't seem to be a big difference. Zoom in and/or manipulate the graphic and there you will see a glaring difference with the raster/bitmap graphic quality appearing very pixelated and hard to read.
How do you create a vector image?
In order to create a vector graphic, you must have software that is able to produce this type of graphic. The best way to create a vector graphic is using a vector graphics editor or graphic art software. Examples of this include Adobe Illustrator, Affinity Designer, Sketch or Canva, just to name a few. If you do not have access to this type of software or need help converting a raster/bitmap graphic into a vector graphic our design team would be happy to help!
Special Circumstances & Instructions
While we prefer vector graphics over raster/bitmap graphics there are cases where we accept high resolution raster/bitmap graphic if you follow a few guidelines:
JPG & PNG – should be saved with no compression. The target resolution is 100DPI at full size, IE, 200DPI at half size – 400DPI at 1/4 size & so on
PSDs – should follow the same target resolution and be provided with layers, when available
TIFs – need to follow the same target resolution. TIFs are very large files, & sometimes difficult to email
Johnson Sign has subscriptions to the most popular design software, so in most cases the legacy version of the file will not be a concern.
If you need more assistance in getting vector artwork for your sign, contact your Johnson Sign Co. sales team member or generally reach us at INFO@JOHNSONSIGN.COM or 800-517-3720 and we would be happy to assist you!