Your brand at night is just as important as during traditional business hours. Depending on the type of business you have, the visibility of your business when it is dark could be even more important then during the day, like if you own a restaurant or bar. Also consider where you live and how many hours of daylight you have in various seasons. In Michigan we can experience only 6 hours of daylight in the winter, making dark hours the dominate time when your business is being seen. This valuable time includes customers searching for where you are located and new customers being exposed to your brand for the first time. Bottom line: don't make the mistake of ignoring what your signage looks like at night as a business owner.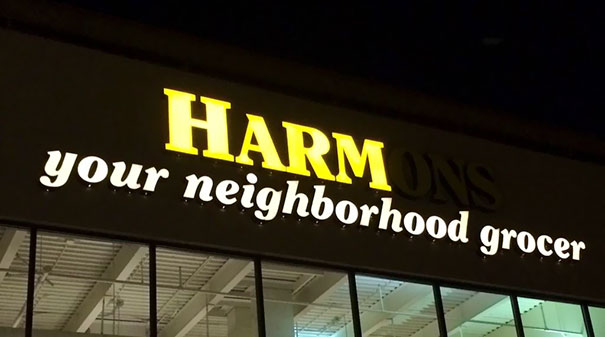 Regular Maintenance
While photos of sign outages on the internet can be hilarious, as a business owner they can be anything but. Making sure your lit sign isn't experiencing any outages is extremely important as any time with issues to your sign is precious time being wasted for new and current customers. Keeping up on your sign maintenance and notifying your sign company of any outage as soon as you experience them can not only save your brand at night, but can reduce your costs so the problem doesn't continue to get worse and more costly.
Visibility
While visibility of your sign seems obvious, sometimes business owners miss the mark at night because their normal business hours stop before then. Make no mistake that visibility of your business should be great at all times. Consider where your business is located, is it on a high rise building? Is it by a busy highway? Do you want to be missing out on visibility of your business at night because your sign is not lit or do you want to send the wrong message because of an outage? All these questions are important to consider when thinking through your signage exposure at night.
24/7 Advertisement
The single most important form of advertisement for your business is your sign. If you were purchasing advertisement you would expect the most exposure possible and the same applies to your sign. Putting a little bit more money into adding lighting components to your sign as well as regular maintenance and updates needed to increase visibility of your sign at night is worth the money and will pay for itself over and over again. Do not miss out on advertising to customers at all times of the day and night, your brand deserves better!
If you are experiencing an outage with lighting components of your sign, interested in updating your current sign with lighting or are consider a brand new sign we can facilitate you in the right direction.
Contact our sales team at INFO@JOHNSONSIGN.COM or call us at 800-517-3720!